My Profile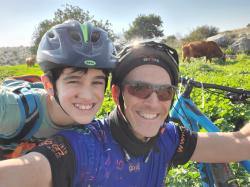 Cobi and Dad Mountain Biking
Total raised for Geerz since 2020: $27,395
| | |
| --- | --- |
| 2023 | $7,174 |
| 2022 | $10,041 |
| 2021 | $6,400 |
| 2020 | $3,780 |
Azi Cutter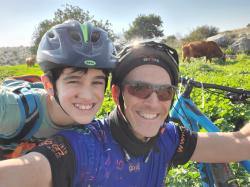 Participating in The Get Into Geerz Two-Day Ride 2024
My Fundraising Goal: $3600
$0 (0%)
Why I'm Participating
By now - you all know how I fell in love with mountain biking - and through riding formed a deeper connection with the Land of Israel.

I discovered and appreciated Geerz after enrolling my son Cobi and seeing the incredible impact it made on him, building up his confidence, his ability to conquer his fears and overcome his challenges. I have since learned that Geerz' impact goes way beyond kids like Cobi, but it's main focus is outlying communities where kids have deep emotional, psychological, social, and economic challenges. Geerz's mission is to empower & infuse them with confidence, a sense of ownership, a place where they are not judged, and an environment that calls upon the best within them.

Please join me on this journey - help me reach my lofty goal of $ 10,000 and together we can empower hundreds of kids in Israel to grow into the kind of young adults they deserve to be and Israel so desperately needs.