My Profile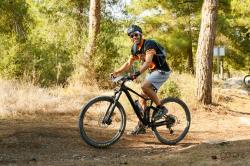 Riding for Charity
Kevin Lev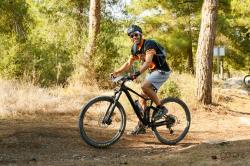 Participating in The Get Into Geerz Two-Day Ride 2023
My Fundraising Goal: $3600. Raised: $4021
Participating in The Get Into Geerz Two-Day Ride 2024
My Fundraising Goal: $3600
$0 (0%)
Why I'm Participating
As a rider, it's amazing to see how inspiring the experience can be to reconnect with Israel, and others who come for the journey. It's amazing what you can learn along such journeys. Many of my friends use this experience as a platform to help others overcoming confidence, psychological, and a host of other issues. Clinicians refer to the work that they do since it's got such high success rates. So, I'm happy to help and do my part to raise awareness for this cause, and help them out to continue their work. Please donate what you can. I appreciate it, but so much more so, would the children who benefit from the care and love given by the people at Geerz.
My Sponsors
₪180 ~ Jonathan Conforti
Go Kevin!
$54 ~ Danielle McCann
Good Luck, Kevin!
$250 ~ Jennifer Dible
Go Kevin! Thank you for riding on the behalf of the many children and families you are helping.
$25 ~ Paolo Dilda
Great Initiative! Wishing you a great ride!
$50 ~ Eric Mahler
Thanks for your participation!
$100 ~ Shoshanna Berger
Proud of you, but I was proud of you before this....
$72 ~ Philip Marcus
Congrats Kev, good luck
$180 ~ Julie Kemp
Happy to support, Kev, and Good Luck!
$72 ~ Traci Spencer-Medlock
You have a heart full of caring and I wish you all the best.
$72 ~ Recover Innovations
₪118 ~ Jonathan Jacobson
Kol HaKavod Kevin!
₪100 ~ Anonymous
!!! בהצלחה אלוף
$100 ~ Scott McLeod
Go Kevin Go!
₪36 ~ Avi Poch
Keep on Trucking or Biking Kevin
₪500 ~ Gisela and Danny Lehrer
Good luck Kev
₪180 ~ Dena & Jeremy Wimpfheimer
Wishing you a safe, adventurous and meaningful ride
₪180 ~ David Shapiro
Kevin, kol hakavod
₪180 ~ Reuven Spolter
Kol Hakavod Kevin
₪180 ~ Dror Orell
Go Kevin!
₪180 ~ Henri & Natalie Lehrer
Lotsa luck!
₪180 ~ Yair and Jord Lehrer
well done Kev!
$25 ~ Aaron & Ilanit Zakowski
$30 ~ Alexia Colin
Congrats Kevin!
₪1500 ~ Anonymous
Wishing you a great ride for a great cause!
$15 ~ Madeleine Kargito
Goodluck!
$25 ~ Eric Mahler
Great fundraiser - Enjoy the ride Kevin
$25 ~ Marco Noli
Best of luck with your fundraising!
$20 ~ Laura Van Mil
Great work Kev!
$25 ~ Emiel Roumen
Great initiative, and enjoy the ride!
$30 ~ Ina Kilinc
It is a great mission!
₪500 ~ Jamie Feinmesser
Don't fall over
$30 ~ Brittany Leitnaker
Good luck with raising the funds for this great cause!
$50 ~ Boaz Hepner
Go go to Kevin!!
₪1800 ~ Anonymous
Behatzlacha, Yasher Koach and Look after yourself!
₪180 ~ Liyah and Adi Hess
We are proud of you Uncle Kevy! We love you soooooooooo much, love Liyah and Adi and Tiffany. Have an amazing journey! :)
₪360 ~ Avi Lev
Go Sunny Boy!
<
>