My Profile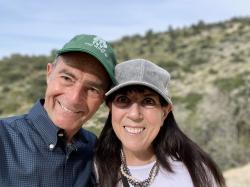 Exploring The Land On Foot
Richard Gertler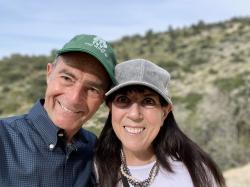 Participating in The Get Into Geerz Two-Day Ride 2023
My Fundraising Goal: $3600. Raised: $5413
Why I'm Participating
Why I'm Participating

If you know me, you know I love biking and supporting causes I believe in. Sometimes I can do them both at the same time. In the past, I have raised funds for ALS, Sharsheret, OHEL, Jewish Family Services, and others. I am appealing to my network of friends and family to help me raise funds for Geerz.

This year will my second ride for GEERZ.

Geerz uses trained counselors to run after-school clubs in difficult border towns and all over Israel to use mountain biking as therapy to help kids deal with anger, trauma, ADD, ADHD and other social and emotional issues.

Geerz is constantly developing new programs. 2 recent examples:

70 Ukrainian orphans were settled in Nes Harim. Geerz brought them bikes, instructors and safety equipment.

We have developed a group for at-risk Haredi girls who need bikes, instructors, and safety equipment; as well as transportation to areas where they can ride while not violating their community's standards.

Thank you for your support.
My Sponsors
$72 ~ Rivka and Elie Wildman
$54 ~ Koby and Shlomit Sterman
$100 ~ Susan and Lenny Presby
You are doing wonderful work here.
$54 ~ Danny & Zelda Wildman
בהצלחה
$72 ~ Martin & Renee Brown
Wishing you Hatzlacha in this special endeavor! Have a safe ride!
$100 ~ Lyn and Fred Cohen
$54 ~ Philip and Shelley Stein
B'Hatzlacha
$100 ~ Marty and Rhonda Leibowitz
Ride on, Bro.
$180 ~ Howard Alt
Ride Richie Ride!!!
$180 ~ Ari Frohlich
Keep up the good work !
$100 ~ Richard Corman
Kol HaKavod Richie!
$300 ~ Rena & Jerry Barta
Kol HaKavod
$18 ~ Anonymous
Richard, we are cheering you & Ellen on! Keep shining your light & doing mitzvahs! Blessings!
$50 ~ Shifra and Larry Shafier
Keep rolling Richie!
$180 ~ Robin and Alvin Stern
Best of luck on your ride.
$250 ~ Kal and Aliza Staiman
$180 ~ Marilyn Zeidel
May HaShem give you the ko-ach to keep on biking and supporting this fabulous cause!
₪180 ~ Gordon Borvick
Hatzlacha rabba!
$54 ~ Evie and Alden Leifer
Best of luck on your ride!
$72 ~ Gary Schimel
Glad to share your mission!
$180 ~ Tammy & Kenny Secemski
Keep strong and stay on the bike
$54 ~ Neal and Barbara Yaros
WIshing you and Ellen the best and admire your continued commitment to helping others.
$72 ~ Elana and Malcolm Samad
Good luck!
$180 ~ Bob Gruenspecht
Kol Hakavod!
$180 ~ Rachel and Ari Gruenspecht
$54 ~ Paul Neustein
גיי גרגעל גיי
$180 ~ Micah Kaufman
Thank you Richie and Ellen Gertler
$54 ~ Michael Ellman
Thanks for doing this. Best of luck
<
>